Are you looking for a WordPress plugin to manage affiliate links, social networking links, etc. within WordPress?
Featured in this article.Pretty Linksis a handy WordPress plugin for shortening long URLs and making them easier to manage.
With Pretty Links, you can easily shorten long links and turn them into short links.
Let's take a look at the features and pricing plans to see how these Pretty Links can help you.
What is Pretty Links?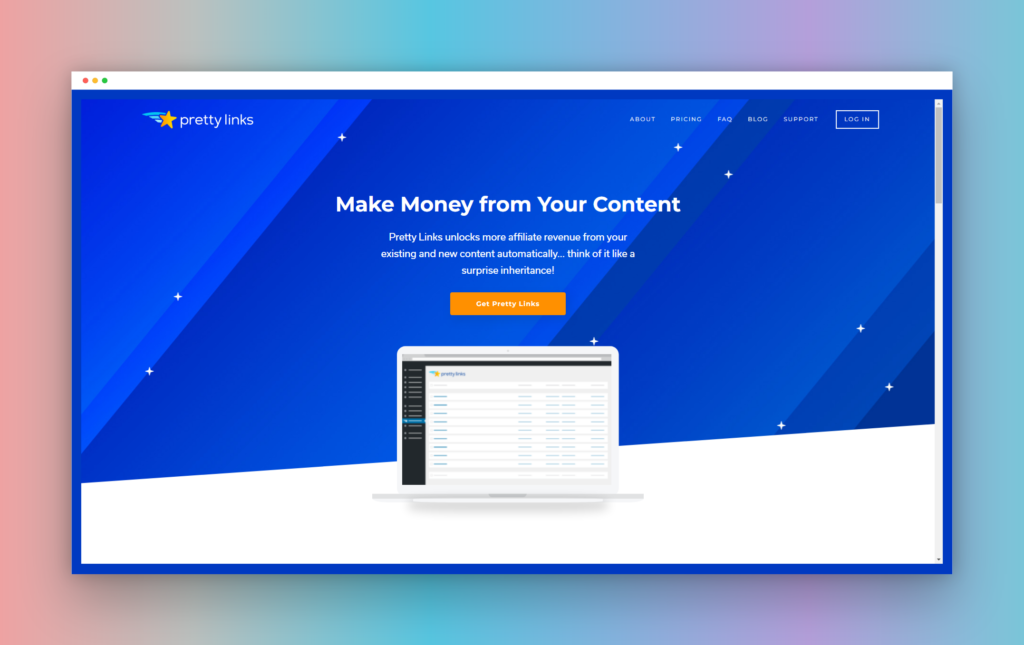 first (of all)Pretty Linksis a WordPress plugin that allows you to manage URLs within WordPress.
Shorten long page links to create shorter links.
Why should I use a shortened URL?
First, long URLs are hard to read. Simple, short URLs are easy to read.
When sharing on social networking sites such as Twitter and Facebook, it is awkward to share long URLs. It also discourages people from clicking on it.
That's why.It is important to shorten long URLs.
Also, by using shortened URLs, it is possible to measure exactly how many times a link has been clicked.
I also use shortened URLs in my blog.
How many people clicked on the URL in a month? Knowing exactly how many people clicked on the
How can we get more clicks?"
What should we do to further increase click-through rates?"
This is a hint for this kind of improvement.
Measuring things like how many times each shortened link is clicked will help you increase the revenue of your WordPress site.
How to use Pretty Links
First, install Pretty Links in WordPress for free. You can find it by searching for the plugin.

After installation, activate it. After activating the plugin, click Pretty Link > Add New.
Pretty Links
You will then see a page where you can set up a shortened URL.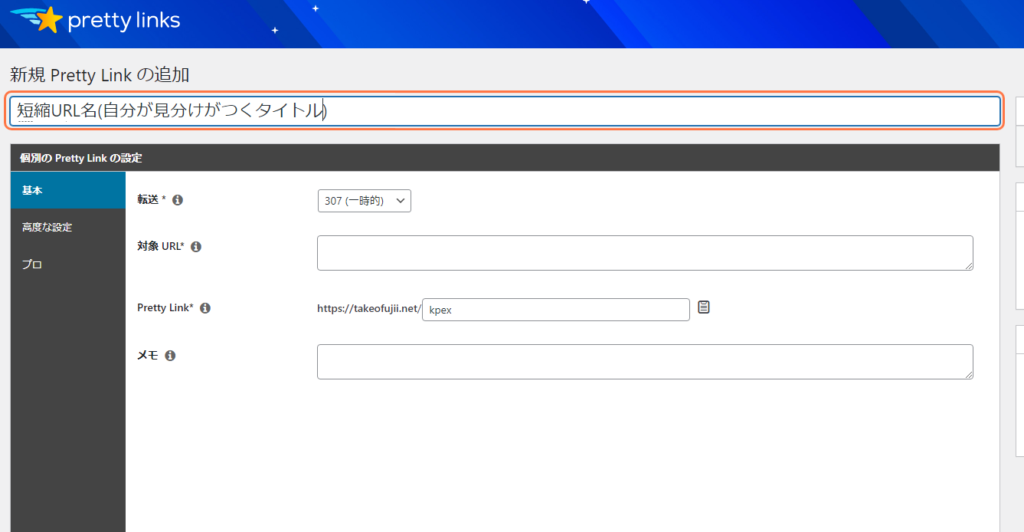 Set the title first. It is okay if you give yourself a recognizable title.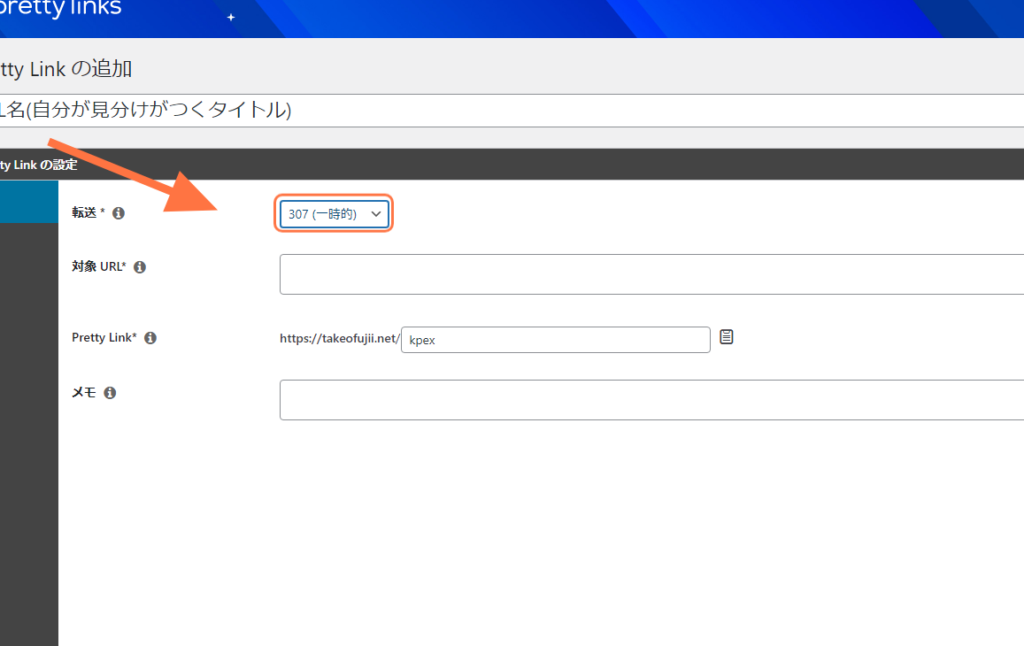 Under "Forwarding" you can choose the type of redirect. This setting is important.
307 (temporary)
302 (temporary)
301 (permanent)
Choosing a 301 means a permanent URL change. However, if the use is to shorten a long link, we recommend choosing a 307 redirect.
For normal use, a 307 redirect is OK.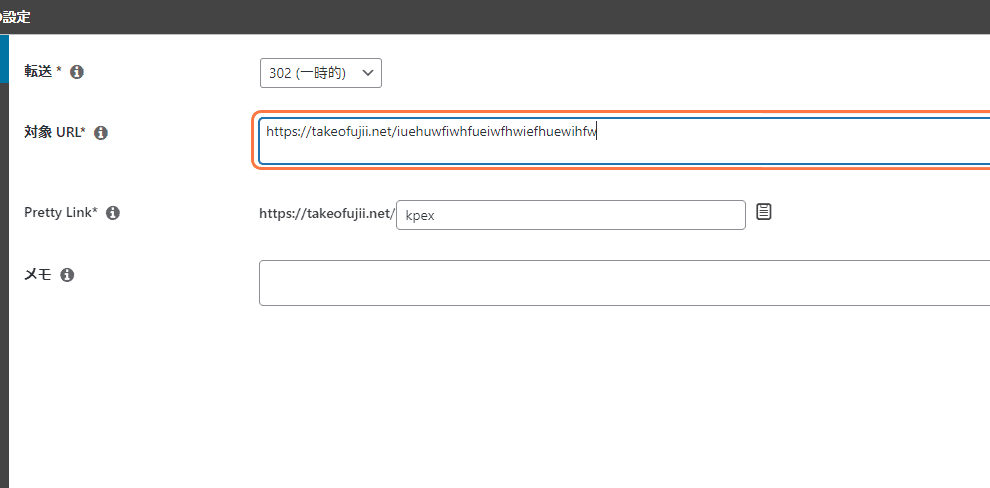 Next, set the URL you want to shorten and what kind of shortened URL you want.
Target URL
The URL you want to shorten
Pretty Link
Specify a shortened URL name
No advanced or professional settings need to be configured. The default is fine.
Measure the number of clicks on a shortened URL
Each shortened URL can be found in the click statistics.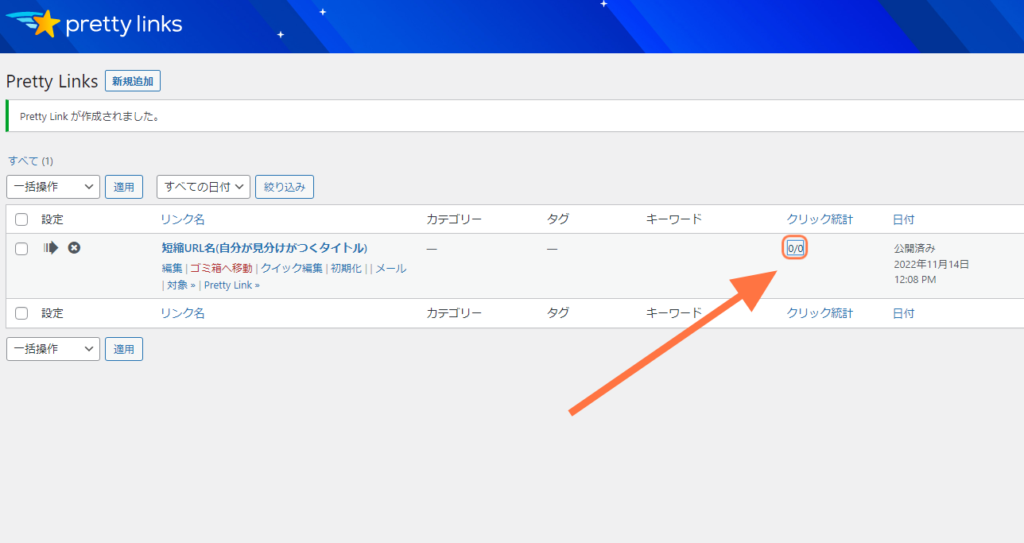 How many times each URL was clicked when clicked. It is possible to see the date, time, and number of clicks.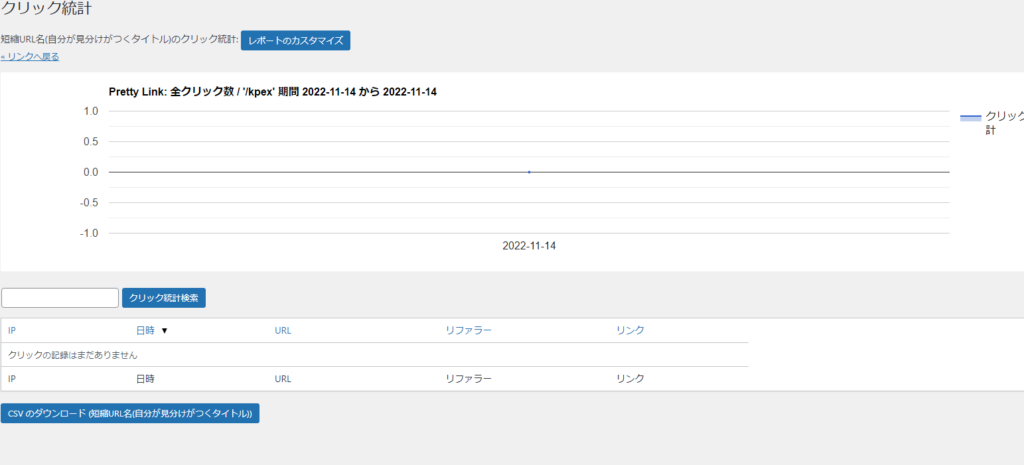 Advantages of Pretty Links
Pretty Links is more than just a WordPress plugin for managing shortened links.
Having actually used it, I will explain what I consider to be the advantages of Pretty Links.
Shorten & hide long links
Affiliate links are long. They are messy and hard to read.
They are hard to remember and difficult to read. These long, unsightly affiliate links can be shortened to be shorter, simpler and more memorable.
That is Pretty Links.
And this shortened link can be easily shared with others not only on your own WordPress, but also on social networking sites and via email.
Therefore, Pretty Links is not just a WordPress plugin, but a link shortener that you can manage yourself.
Easy to use & Japanese language support
Pretty Links is a WordPress plugin with a clean and easy-to-use designed admin panel. The more shortened URLs you have, the harder it will be to manage them.
However, as for Pretty Links, it is a user-friendly and user-friendly administration screen. There is no confusion in using it.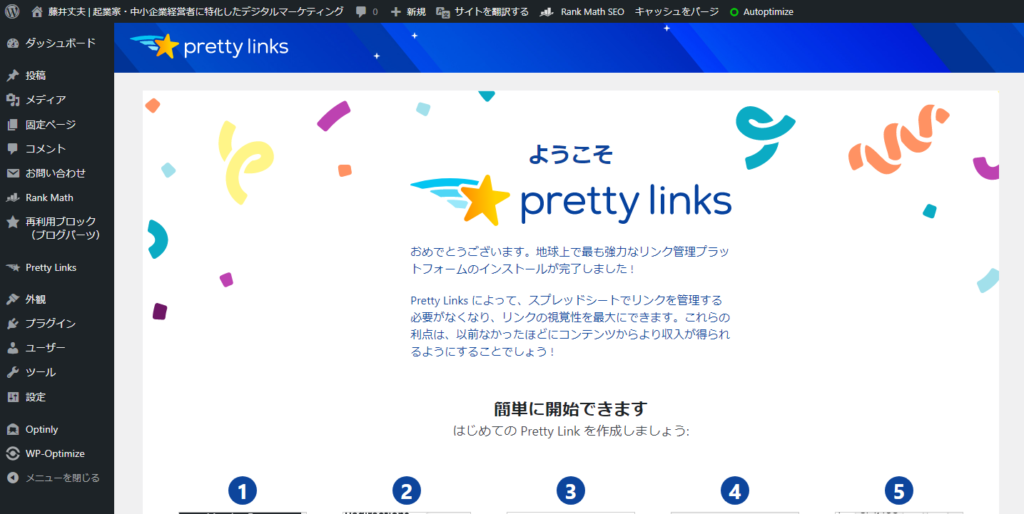 Japanese is also supported.
Link measurement can be done.
If you just want to create a shortened URL, there are other tools besides Pretty Links.
The important thing is the "measurement function". You can measure how many times your link was clicked, detailed information about the user's browser, IP address, operating system, etc.
You can also display the results of this measurement in an easy-to-read format. This feature is essential for marketers and affiliates.
Results can be downloaded in CSV format.
You want to download the link measurement results from Pretty Links and save them in Excel, Google Spreadsheet, etc. You can do that as well.
Pretty Links allows you to download results reports in CSV format, including the number of clicks on your links.
Disadvantages (Cons) of Pretty Links
The disadvantage (or disadvantage) of Pretty Links is that the free version has very limited functionality.It is more restrictive than the paid plans.
I can't think of any other cons that I can think of.
In other words, if you don't see the value in using shortened URLs, you will find Pretty Links "a bit expensive...".
But affiliates and marketers who understand the importance of keeping links short and measured should be able to accurately recognize the value of Pretty Links.

Which of these buttons is being clicked? Understanding the number and frequency of clicks will lead to improved conversions (signups).
From shortening links to measuring them, Pretty Links can do it all.
Why you should use Pretty Links
I will tell you about my frustrating experience. I used a free shortened URL management tool in the past. Its name is "Cliqqo". Probably almost all Japanese people don't know about it.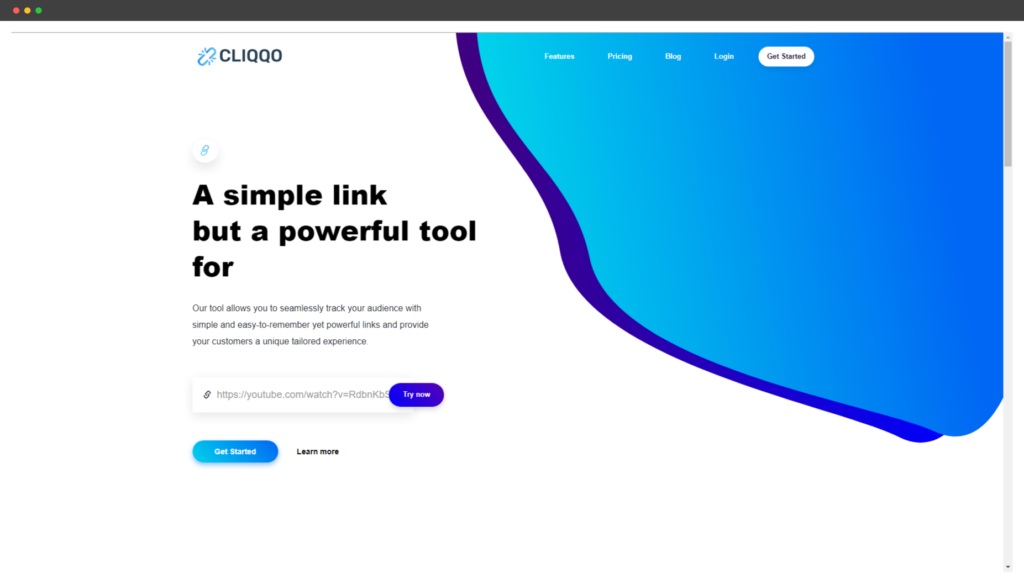 This Cliqqo was used in 2021. However, as of 2022, it has closed. And that too abruptly. Without notice. The service that had shortened and managed my large number of links suddenly closed.
See the image below. It is completely closed.

I was impatient when I noticed the quirk. That is why I recommend Pretty Links.
Caseproof, LLC, the developer of this plugin, was founded in 2004 and has been supported ever since; as you can see from their Twitter account, this account has been around since 2009.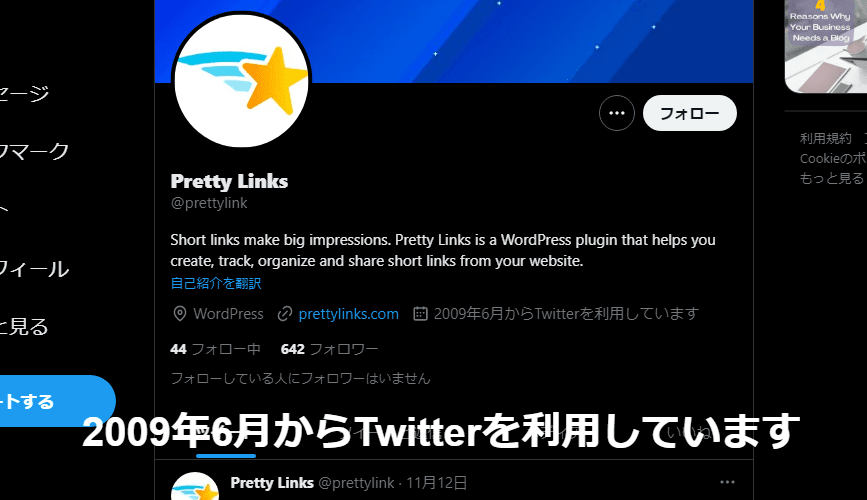 suddenThe risk of Pretty Links becoming unavailable is extremely low.It is. I have used it myself for many years.
By the way, I am also using the paid version.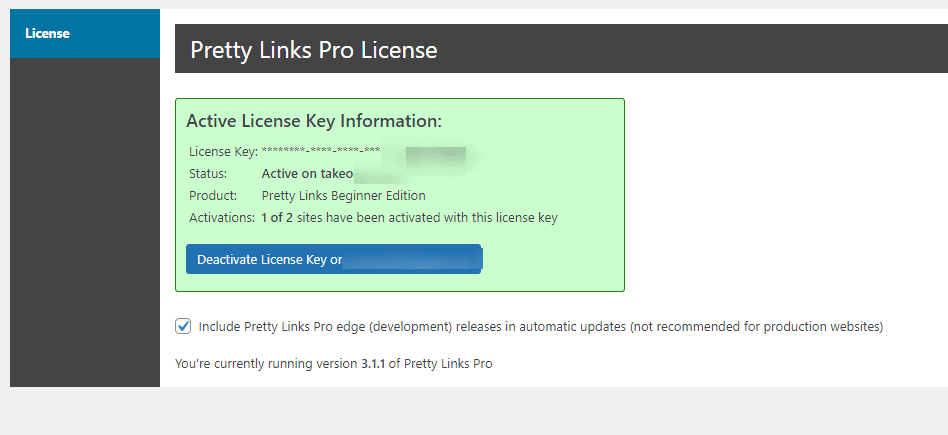 You can convert long affiliate links into your own unique shortened URLs, and organize & manage those shortened URLs. You can also analyze how many clicks each link has received, etc.
Pretty Links is equipped with functions for this purpose.
Pretty Links Pricing and Plans
Pretty Links is a free WordPress plugin. You can easily install and use it from the plugin.
However.Functionality is limited.
Therefore, to use more features, you should use a paid plan. There are three paid plans available: Beginner, Marketer, and Super Affiliate.
Each plan is explained in Japanese.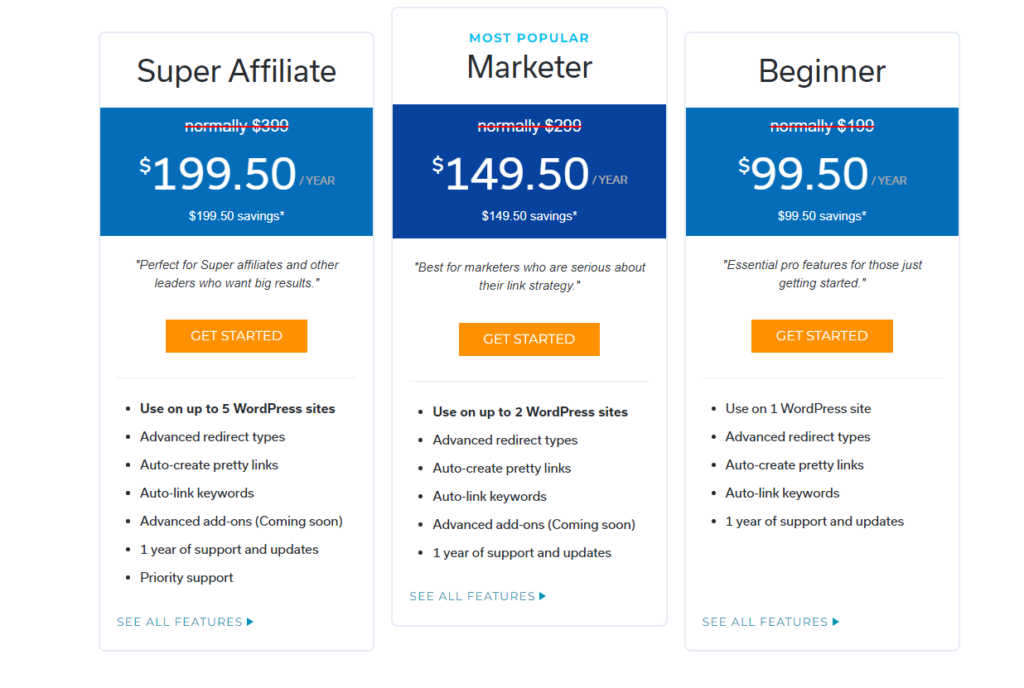 The Beginner plan costs $199 and allows you to install Pretty Links on one WordPress site. You can install Pretty Links on one WordPress site and use all the features of the paid plan.
Examples of features included in paid plans
Automatic Redirect
Automatic creation of shortened links
Auto Link Keywords
The Marketer plan costs $299 and allows you to install Pretty Links on two WordPress sites. All the features of the paid plan are available.
The Super Affiliate plan costs $399 and allows you to install Pretty Links on 5 WordPress sites. You get all the features of the paid plan plus priority support.
These three plans. Feel free to choose the one that best suits your needs.
In addition, a special limited offer is currently available. All paid plans are available for "welcomeEnter the coupon code "50%" at time of payment to receive 50% off.
Check out our special limited offers
How to Buy Pretty Links
This section explains how to purchase Pretty Links. First, click on PRICING.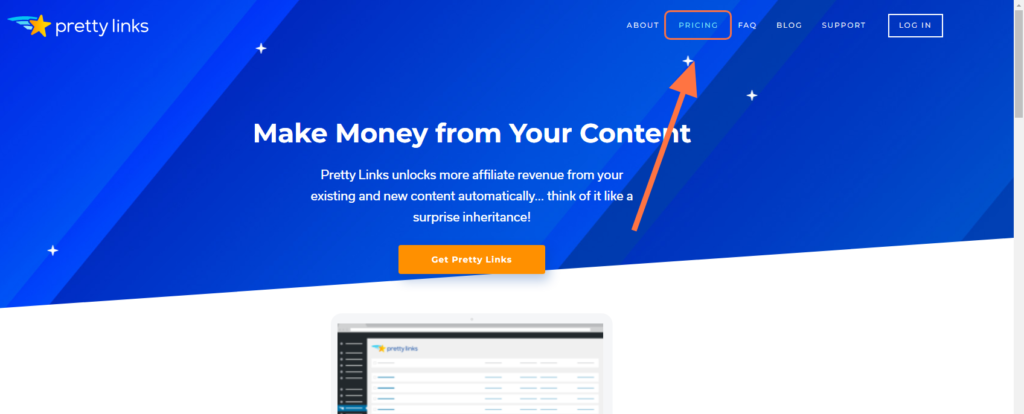 Please select a rate plan here.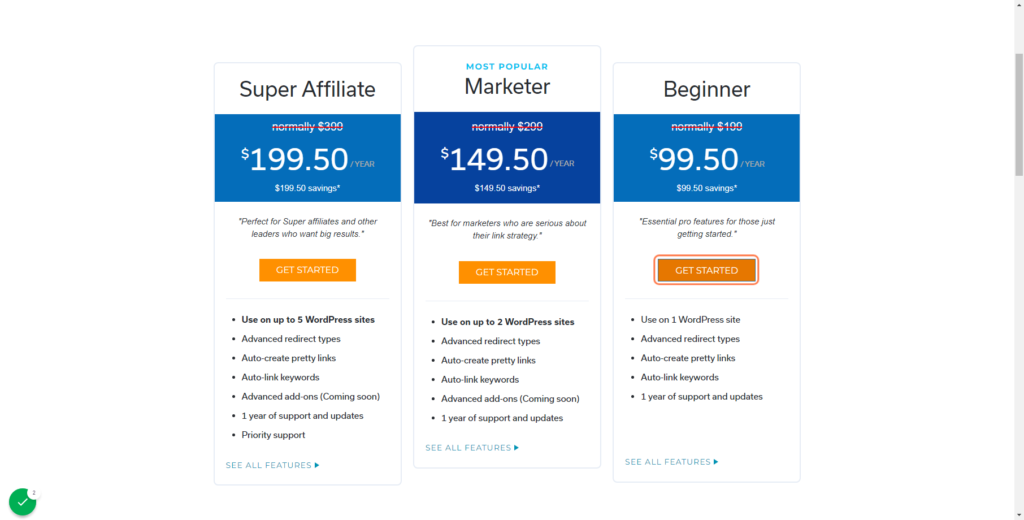 Once you select a plan, you will be taken to the payment page.
First Name (First Name: Taro)
Last Name (Last Name: Yamada)
Email (Email address)
and click the button.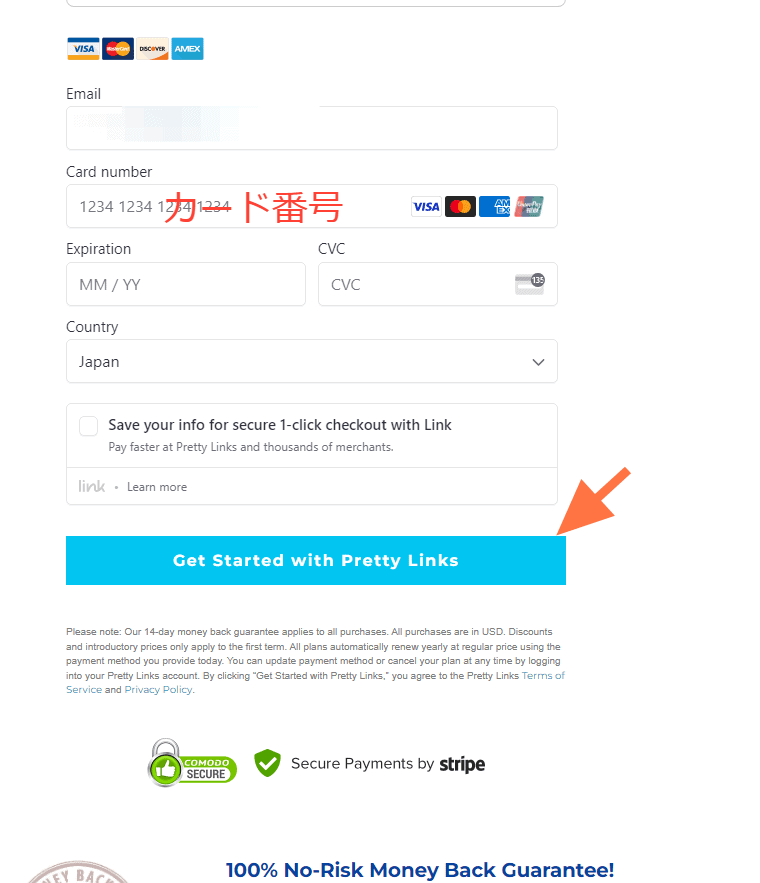 Card Namber
Expiration date
CVC
and click the button.
You can make payments via Stripe, so there is no risk of your credit card number or other important information being compromised. Stripe is the world's leading payment processing service.Therefore, payments can be made safely from Japan.
Pretty Links Money Back Guarantee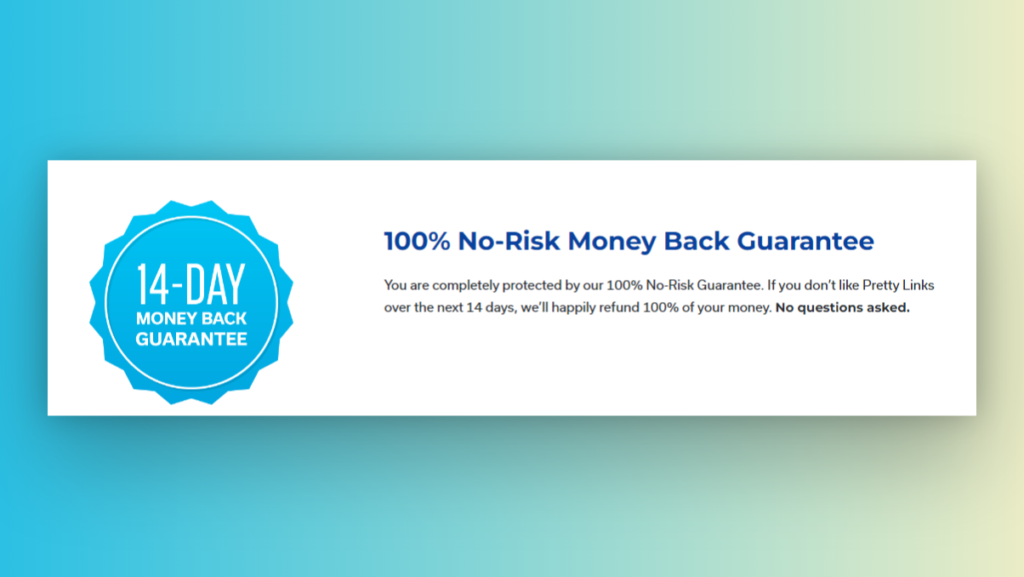 andPretty Links offers a 14-day, zero-risk, full money-back guarantee.If you use it and don't like it, you can request a money-back guarantee within 14 days.
In addition, Pretty Links offers a one-year support period. If you have any questions, support is available to resolve them immediately.
Check out our special limited offers
Q&A about Pretty Links
Who would you recommend Pretty Links to?
Using Pretty Links is easy. No coding knowledge or special skills are required. Therefore, you can use
And a shortened URL management WordPress plugin for all those who want to shorten long links and manage them simply.
Is Pretty Links available in Japan?
Yes, I am. There are many Japanese who use Pretty Links, including myself. Also, as you can see by doing a Google search, you can find quite a few articles explaining the process in Japanese.
Pretty Links is a shortened URL management plugin that is also used by Japanese.
What is the future of Pretty Links?
It can continue to be used safely in the future.
The developer, Caseproof, LLC, was founded in 2004. And Pretty Links has been around since I started using WordPress.
Pretty Links has many users and new additions are in the process of being developed (and will be added soon).
Check out our special limited offers
Thank you for taking the time to read my review of Pretty Links to the end.
If there is anything else you would like to know about Pretty Links, please feel free to write me in the comments section. See you soon.